How many times have you seen reports from WCB Alberta and had no clue what it said or how it impacts your company. This article explains what a WCB Alberta Premium Rate Statement is and what you need to know to protect your company from higher WCB premiums.
What is a WCB Alberta premium rate statement?
A premium rate statement is a report that is sent to Alberta employers who have a WCB account. This report is sent typically, between the last week of November and first week of December.
It tells the company what their "premium rate" will be for the next year.
Meaning a premium rate statement sent in 2022, will have the new 2023 WCB rates for your company. It's like any insurance company telling you if your premiums will be higher or lower for next year.
Example:
In the sample picture below, you'll see that WCB Alberta sent the premium rate statement on December 4, 2021. (Red arrow)
However, when we look at where the green arrow is pointing, we see it says:
"Rate year: 2022."
This tells us the information on the rest of the report is for the next year 2022.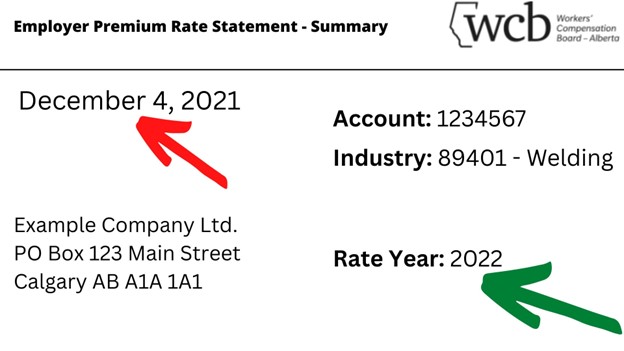 What is a WCB premium rate?
A WCB premium rate is the rate at which your company pays WCB Alberta for covering $100 of payroll. The way it looks for example is: $1.25 per $100 of payroll. Meaning in this case, for every $100 of payroll, you have to pay WCB $1.25.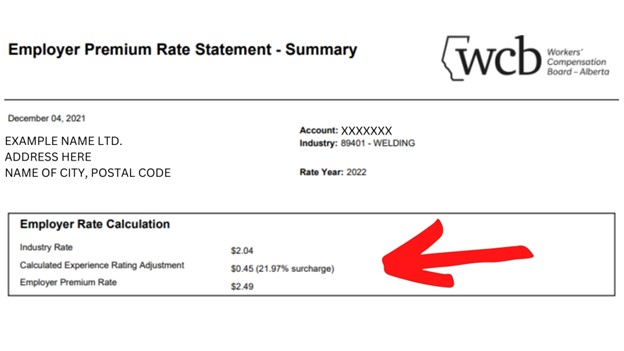 Employer Claims Costs
This is representing how much money WCB spent on all your WCB claims over the last few years.
Industry Average Claims Costs
To put this one simply, this is the benchmark WCB uses to determine if you're in a surcharge or a discount. If your employer company has employer claims costs higher than this number…you're in a surcharge. If lower then you will be in a discount.
Read also: 3 Questions You Ask an Injured Worker
Below is an excerpt from a sample WCB Alberta Premium Rate Statement of a company who will be in a surcharge.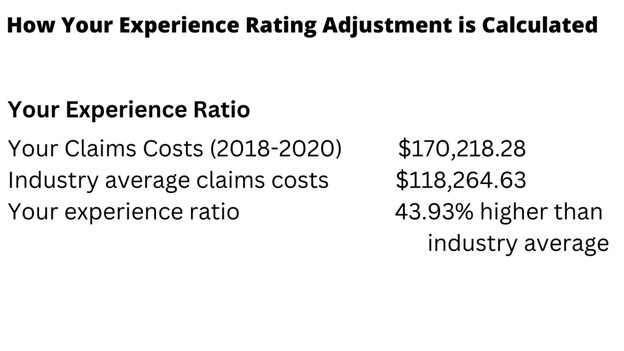 Who should know about the information on the WCB premium rate statement?
A healthy WCB program includes a team made up of senior management, managers, and front-line staff.
I recognize every company is structured differently. Some will have an owner while others have a board of directors, CEO, and executives.
Regardless of your company, there is a senior level, middle, and lower or front line.
With larger companies, there is usually an executive that might be assigned to health and safety/WCB. This person will need to know the new rates. You should include what kind of impact these new rates will have on the company.
Depending on the company and industry you work in, an increase in WCB rates may affect your company's ability to bid work which can affect overall profits.
In a company of less than 100 employees (possibly) run by one owner or family, you want to make sure to inform ownership of changes to the WCB rates as well.
In doing so, money can be allocated and invested appropriately. You can improve the WCB program in your company, or into the health and safety program. Either one will work to prevent injuries from occurring.
If you're responsible for claims management, you can use WCB rates to identify gaps in your WCB program.
It could literally have been one bad claim that resulted in a spike in premiums.
Whatever the situation, it's always good to come together as a team and discuss any rate changes and how to address them.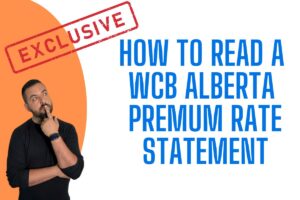 How do I get a copy of my premium rate statement?
The best way to get your WCB Alberta Premium Rate Statement is to login to your "mywcb" account.
The link to do so is right here: https://my.wcb.ab.ca/ess/signin
If you don't have a myWCB account, you can sign up for one.
When you log in there will be a bunch of different tabs and links that may appear confusing.
Want help you finding your WCB Alberts Premium Rate Statement?
I've created a FREE downloadable ebook that walks you through the entire process.
Control Your WCB Premiums!
Download my FREE eBook so you can control your WCB premiums all year long.